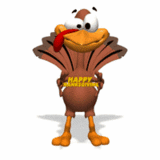 We're very busy watching the Macy's Parade and T is dancing around the house to the music, and trying to drag dot and I into her performance, with varying degrees of success. I've already culled a few pertinent ads from the slew that arrived this morning, and I'll be studying and comparing them later tonight. Cant wait.

As usual, Dot is cooking up a feast. Meanwhile, I'm on jitney duty. I'll be leaving to collect my Aunt Connie who is up in Sunrise and my parents, deliver them here, then drive them home. We're vowing that no one will drive into the house this year, and no one will go to the ER.

So far, so good.

Hope everybody has a great Turkey Day!